Watch this video to learn the truth:
Brought to You By Brenda Davis, RD, and the Team at Food Revolution Network
Get immediate access to the groundbreaking program
Right Now $497
Buy Now

For your security, all orders are processed on a secured server.
Your purchase is protected by our 60-day money back guarantee.
The mainstream advice we've been handed is outdated.
You know you could do a little bit better if only you knew the specifics like:
What to eat.
And how to wean yourself off pasta, which hurts you in more ways than one.
When to move.
What are all the little details you need to know, like how important it is to walk after a meal to keep blood sugar in check?
How to lose weight, and keep it from ever coming back.
Few people around you seem to pay attention to what they're eating, and you're wondering where you can find support so you can let go of bad habits.
You're willing to make a change but aren't sure how because it feels like a slog just to make it to the evening — and that's when the cravings for snacks and sweets really kick in.
Each meal feels like a giant question mark, and you can't ignore it anymore.
In fact, there are so many question marks…
"Is this food going to harm me?"

"Am I going to get saddled with medications for the rest of my life?"

"I know extra weight is a major risk factor, but diets and exercise haven't worked in the past. What REALLY works to lose weight and keep it off?"

"How can I ditch the sweets and coffee that get me through the day?"

"How do I get motivated to exercise more, especially when I'm so tired?"

"What else am I missing?"
Most people get very little instruction on what to eat and do to prevent diabetes besides blanket advice to "Avoid sugar."
That alone won't keep you from sliding into the danger zone.
Why? It's outdated advice.
The conventional wisdom says to eat less sugar and simple carbs to avoid glucose spikes.
But a healthy body can eat carbohydrates, fruit, and even a little table sugar.
In fact, we all need sugar and carbs for energy. That's why athletes love eating these things before a big race.
Eliminating all sugar and carbs doesn't get to the root of the problem.
Many people try this and end up eating more foods (like saturated fats
or processed foods) that cause the problem to get worse.
The new way of understanding type 2 diabetes makes much more sense.
It's not a sugar problem.
It's a problem with the way the body stores fat.
That's why there's such a big connection between
extra weight and diabetes. (Ever hear the term "diabesity"?)
We've discovered what to do to fix this problem — at the root.
This breakthrough is so new, very few professionals know about it.
Internet articles don't mention it.
Not many books on the subject exist.
And none of these give you guidance on how to actually make new healthy habits stick — it's hard to get motivated when you're tired all the time!
But that's all about to change.
We'll show you how to stick with the changes long-term so you can add precious life to your years, and enjoy all of the special moments fully and freely.
Making a change doesn't have to feel like climbing Mt. Everest.
In fact, it doesn't have to be painful at all.
You don't need to change your whole life overnight.
And you don't need to spend your entire weekend figuring out what to eat for the rest of the week. (No one has time for that!)
Are you ready for a proven roadmap?
Introducing...
All taught by Brenda Davis, award-winning Registered Dietitian and bestselling author of books including Kick Diabetes and Defeating Diabetes. Hosted by Ocean Robbins of Food Revolution Network.
Praise for Diabetes Expert Brenda Davis
These testimonials reflect people's unique experience with Brenda's work. Your specific experience will vary.
This course is phenomenal! I am a Registered Dietitian myself and I viewed myself as knowledgeable about weight loss and diabetes. Yet I learned SO much in this outstanding series. It is beautifully designed, comprehensive, and so well-grounded in up-to-date science. It's inspiring! I also am empowered to help my clients with diabetes, and I certainly will refer them to Tackling Type 2 with Brenda Davis and Ocean Robbins!
How do I thank someone for giving me my life back? I don't know where to begin. I was sliding down a very slippery slope and Brenda caught me. You dusted me off and guided me with wisdom, clarity, and love to a path that brought me health and joy. I will be forever grateful.
Thank you, Brenda Davis, for giving me hope as my tears run down… Diabetes is a topic very dear and near to me. My grandparents had it, my mother and her siblings have it, a few of my cousins my age now have it. THANK YOU!!
Based on Brenda's knowledge and advice, our family changed our diets and my father completely reversed type 2 diabetes from which he had been suffering for over two decades, not to mention also reversing heart disease and other ailments.
Ready Now? Join Us!
Unlimited Access.
Enjoy it all as much as you want.
Enroll TODAY for $497
Buy Now

For your security, all orders are processed on a secured server.
Your purchase is protected by our 60-day money back guarantee.
6 modules, each with 6 engaging video lessons
The instant you join, you'll be able to dive into the video trainings where you'll find complete instructions to help you live a diabetes-free life.
Join Brenda Davis, RD, and Ocean Robbins as they guide you through the ins and outs of nutrition, exercise, optimal sleep practices, lasting weight loss, and more — giving you a complete education in diabetes prevention and reversal.
All lessons are available in HD video, MP3 audio, and with downloadable transcripts, if you prefer to read.
36 easy plant-based recipes, with gluten-free and soy-free options
You never feel like you're on a "special diet" with these crowd-pleasing meals. The last thing we want is to feed ourselves or our loved ones meals that make us sick. That's why each of these no-fuss recipes is designed to pair flavor with function, so you get nutritionist-approved meals that nourish your body and soul with each bite.
Get ready to find your new favorite dish, for you and the whole family to enjoy without worry or guilt!
Baked Apple-Spice Oatmeal
Hearty Split Pea, Lentil, and Barley Soup
Health Coaches and Certified Nutritionists to answer your questions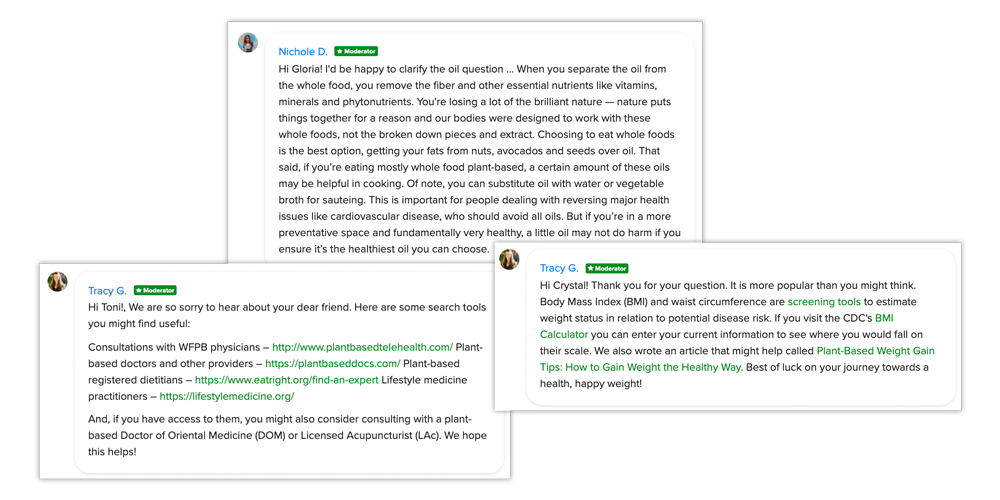 We've designed an interactive experience where you can chat with our team and get support where you need it most.
Come back anytime to ask your health, food, and diabetes questions, even after you've completed all the modules. You'll always have a place to get help finding answers.
This rare level of support can make all the difference when it comes to getting unstuck and making huge strides towards your goals.
Access to an exclusive community forum
Temptation is everywhere, making it a lonely road — unless you have the right support. That's why Tackling Type 2 gives you instant membership to a lively community where you can connect with others who share the same goal as you: to get and stay healthy.
Post questions, swap recipes, share struggles and celebrate your many wins. This forum is customized for course participants — and it's not on Facebook.
We've designed the ultimate coursebook to help you remember what you learn and track how far you've come in such a short time.
Over and over, our students tell us this is the #1 way to get the most out of each module. You'll be able to follow along with the lessons, take notes, and retain what you learn so you can make new healthy habits that last a lifetime.
Before long, you'll be making better choices, automatically.
6 recipe demonstration lessons showing exactly how to prepare meals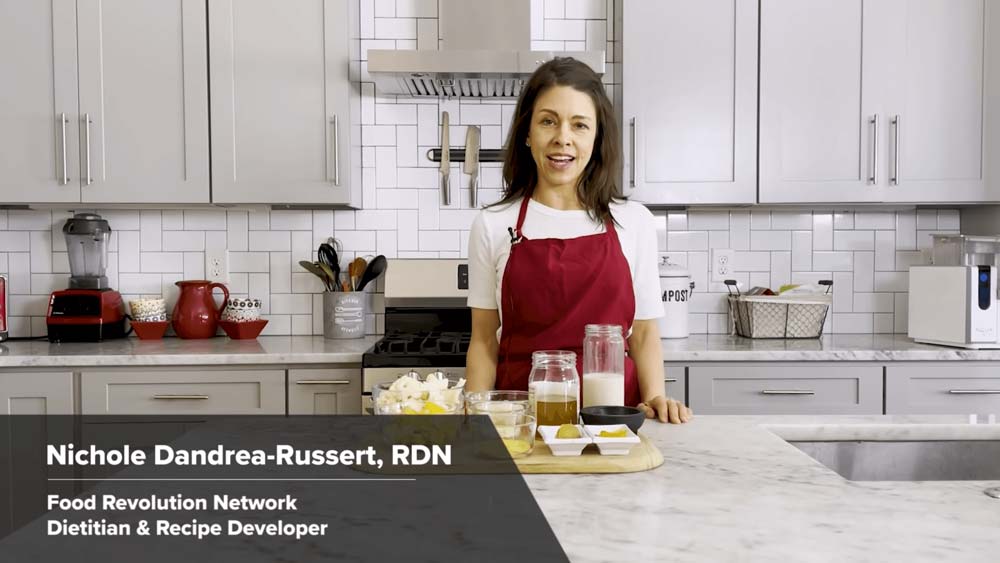 You have the ingredients. You're ready to make a healthy meal. But are you cooking in the best way so you don't accidentally lose nutrients, and so your body can absorb the good foods you prepare?
Thanks to the recipe cooking demos, not only will you make sure you aren't making any common mistakes, you'll learn techniques to save time in the kitchen.
If you're looking to get inspired, reignite your love for cooking, and lose any excess weight, you'll love these lessons.
Q&A with Brenda Davis, RD
Kick things off with a seismic shift in your understanding of all things diabetes. Brenda takes the TOP questions from our community and breaks them all down with easy-to-understand explanations. One of Brenda's true gifts is explaining things in a way that not only reveals lifesaving information but inspires healthy habit changes.
Don't miss this incredible opportunity to get your health questions answered by one of the best nutritionists in the world.
Your success means everything to us, so we're including hundreds of dollars worth extras from our trusted partners to help you even more.
Discover top tips to outsmart insulin resistance, boost energy, and how to eat for gut health and longevity.
You'll get a huge range of diabetes-busting tools, recipes, resources, ebooks, and more for total body wellness. These high-value bonuses alone make it worth it to join Tackling Type 2.
Join today to get over $500 in free gifts
Free Bonus #1
Free Chapter from Mastering Diabetes, a New York Times Bestselling Book (PLUS 40 Delicious Recipes)
from Cryus Khambatta, PHD and Robby Barbaro, MPH
Value: $47
In the Mastering Diabetes Wellness Guide, you'll discover the ins and outs of insulin resistance, the underlying condition that causes high blood sugar. Learn why low-carb diets actually increase your level of insulin resistance in the long-term, as well as how to reverse insulin resistance, prediabetes, and type 2 diabetes using your food as medicine. PLUS, you'll receive 40 simple whole-food plant-based recipes to level up your culinary skills. Sit in the driver's seat of your health permanently and avoid fad dieting with this health-saving information.
Free Bonus #2
Eating for Energy: The 14-Day Plan to End Fatigue Forever
from Ross Bridgeford of Live Energized
Value: $97
One of the first tolls on diabetes takes is on your energy levels, but we'll show you how you can have natural, sustained, all-day energy! With this 14-day plan, you'll discover the five root causes of fatigue. Plus, you'll learn how to nourish your body and give it the tools it needs to thrive. The course teaches you how to regenerate the three energy factories in the body: your endocrine system, digestive system, and detoxification system. Once these systems have been nourished and rebuilt, fatigue disappears and is replaced with a wonderful energy level that allows you to live life to the fullest. Included in this bonus offer are meal plans, recipes, shopping lists, training, interviews, and more.
Free Bonus #3
Eating for Gut Health Recipe Guide
from Dr. Ritamarie Loscalzo
Value: $67
Gut health is essential for diabetes prevention and reversal, so this e-book recipe collection is full of delicious, nutritionally dense recipes that will repair and optimize your digestion, keep your blood sugar in a healthy range, help calm inflammation, and nourish your glands, organs, and immune system.
Free Bonus #4
Dreena's Plant-Powered Snacks
from Dreena Burton
Value: $9
In Plant-Powered Snacks, Dreena delivers recipes for snacking favorites, made plant-based and oil-free! Satisfy sweet tooth cravings without spiking blood sugar with Dreena's Caramel Corn or Chocolate Sweet Potato Pudding. Enjoy savory snacks? Dig into Umami Popcorn, Chickpea Nuggets, Irresistible Spud Bites... and more!
Free Bonus #5
Liver & Detox Collection
from Goodness Lover
Value: $97
Type 2 diabetes is associated with a number of liver disorders that can zap energy. The Liver & Detox Collection is the ultimate toolkit to sleep better, awaken with energy, and achieve peak performance. You'll discover safe, effective solutions to reduce toxic load, feel lighter, and keep inflammation in check.
Free Bonus #6
Transformation 20: Diabetes - Reduce or eliminate Type 2 Diabetes Medication and Lose Weight in 20 Days
from Dr. Joel Fuhrman
Value: $16
Dr. Fuhrman's Transformation 20: Diabetes includes the information you need to help you rid yourself of Type 2 Diabetes. The program includes 20 meal plans with easy-to-follow recipes and handy shopping lists. With your doctor's guidance, plan will put you on the path to gradually reducing and eventually freeing yourself from the medication, glucose monitoring, HbA1C measurements, medical appointments and devastating complications tied to this life-threatening illness.
Free Bonus #7
The Little-Known, Life-Changing Health Summit: The COMPLETE Digital Recordings & Transcripts
from The Art of Anti-Aging
Value: $197
In this unique and powerful summit, 22 world-renowned doctors and researchers reveal their best life-changing secrets to look and feel your best now, avoid and overcome disease, and live longer. You'll get the complete recordings and transcripts of all 22 of the popular interviews in The Little-Known, Life-Changing Health Summit, including Dr. David Sinclair, Dr. Pedram Shojai, Dr. Michael Murray, Ari Whitten, Dr. Mark Hyman, and Ocean Robbins — all interviewed by health researcher and #1 bestselling author Brian Vaszily.
Free Bonus #8
The Plant-Based Way to Transform Your Health
from George E Guthrie
Value: $14
A top medical doctor reveals how you can harness the healing power of plants and transform your life in The Plant-Based Way to Improve Your Health. The science continues to mount, showcasing plant-powered ways to prevent and even reverse chronic disease. Dr. George Guthrie has distilled over 30 years of medical experience and patient transformations into this easy-to-read eBook.
About
Brenda Davis, RD,

Your Guide…

Brenda Davis, RD, is an award-winning registered dietitian, one of the world's most beloved plant-based eating advocates, and an internationally acclaimed speaker. She has authored/co-authored 12 books with nearly a million copies in print in 15 languages, including Kick Diabetes Essentials and The Kick Diabetes Cookbook. Brenda has been a featured speaker at medical, nutrition, and dietetic conferences in over 20 countries on 5 continents. Her personal and professional life goals are one and the same: to make this world a more sustainable, more health-supportive, and kinder place.
Here's What You'll Get Today with Tackling Type 2:
6 modules, each with 6 easy video lessons

36 healthy plant-based recipes

Health Coaches and Certified Nutritionists
to answer your questions

Access to an exclusive community forum

6 recipe demonstration lessons

Downloadable Coursebook

Q&A with Brenda Davis, RD

Over $500 in bonus gifts
Ready Now? Join Us!
Unlimited Access.
Enjoy it all as much as you want.
Enroll TODAY for $497
Buy Now

For your security, all orders are processed on a secured server.
Your purchase is protected by our 60-day money back guarantee.
You're Protected By Our 60-Day, Unconditional, Money-Back Guarantee.
Try it out. If you aren't completely blown away by the course, even if you just don't like it, just email us at [email protected], any time within 60 days after purchase, for a prompt and courteous refund.
This means you can even take the whole course, take every lesson, and make every single mouth-watering recipe, and if it doesn't rock your world, you get every penny back.
That's how confident we are that you'll LOVE Tackling Type 2.
PLUS, if for any reason you request a refund, everything that you've downloaded, and everything you've learned, is still yours to keep.
That's why we call our guarantee "better than money back."
Frequently Asked Questions
For over a decade, Food Revolution Network has designed online learning experiences that bring you the most effective, research-backed insights in a format you'll love.
This means you'll be given more than just a course to complete — you'll have the support of the community and the Food Revolution Team to ensure your success.
We promise that no matter where you are right now, it's 100% possible to improve how you feel. The strategies, tools, and guidance you'll get have worked for thousands. Small shifts can add up to extra years and an excellent quality of life. That's exactly what Tackling Type 2 is designed to give you.
Does Tackling Type 2 cover type 1 diabetes?
While the training in this course is beneficial for everyone, we don't address type 1 diabetes specifically. However, you will learn specific foods to eat and avoid, along with optimal ways to eat, exercise, lose weight (if that's desired), improve sleep, de-stress, gain energy, and keep blood sugar levels in a healthy range. If you're looking to feel your absolute best, these lessons are the gift that keeps on giving.
I'm young, does this apply to me?
YES! If you've found this information early, it means you get to benefit that much more. What you'll learn in Tackling Type 2 is valuable for everyone who wants to avoid energy crashes, immune system dips, and nutrient deficiencies. This is a blueprint for living an exceptionally healthy life.
If you're young, that means you get to take advantage now and have the best life possible.
How much time will this take?
The course is designed to be completely self-paced. You can go as fast or slow as you like. Watch it all in one action-packed weekend, or take it all in over 6 weeks or more.
We'll send out an email with a new module each week for 6 weeks, but you'll have instant access to everything. The first lesson of the week is longer, and then you'll have shorter videos throughout the rest of the week.
If you have questions, want to discuss what you learn, or dig deeper into any topic, your community and the Food Revolution Network team are there for you in the online forum.
The most important thing to remember is, "If you don't make time for wellness, you'll be forced to make time for illness."
We want you to spend your time feeling fantastic and doing things you love. A little time invested in your education will give you maximum chances for that.
Can I share this course with my family? I'm concerned about them too.
Yes, you can share what you learn! We want you to spread this important information with the ones you love. You might save a life.
Inspire your family by making the dishes you'll find inside the course, or go through the modules together so you're learning the material at the same time.
Plus, you'll have unlimited access to this course, so it'll be there for you and your family anytime you need it.
Do I need to become a vegetarian to do this course?
Food is one of the best parts of life — and we definitely don't skimp on the joy of eating well. This course is for people whose diets are anywhere on the food spectrum, from omnivore to vegan.
We will talk a lot about the benefits of eating more plant-based whole foods because it is one of the best things you can do to prevent or reverse diabetes. We'll show you how to do it right so you can enjoy mealtime thoroughly. Prepare to look forward to breakfast, lunch, and dinner!
You'll find that the plant-based recipes we've included are true crowd-pleasers. They're each carefully crafted by certified nutritionists to ensure that they are delicious, wholesome, and provide sustained energy. You might even save quite a bit of money.
From nourishing soups to crispy crackers to Buddha bowls and dozens more, you'll have loads of new favorite meals to add to your repertoire. Plus, you'll have the community to swap new recipes with any time you want a boost of inspiration.
What if I miss a session?
Don't worry, it's all available for you to enjoy any time you like — for life! You'll be able to watch it all immediately, or you can go at your own pace.
Many people who take our courses like to go through them more than once, and return to the recipes dozens of times. You buy it once, and you can cherish it forever.
What's your refund policy?
We stand 100% behind our courses. There is zero risk. We don't require you to show proof that you've gone through the course.
If you find within the first 60 days from the date of your initial payment that you're not satisfied, you may request a full refund. Everything you've downloaded is yours to keep.
We make it easy for you! Simply send an email to [email protected] or reply to any email we send you.
Refunds will be issued in the same form of payment made and may take up to two weeks to process.
The best time to take action is today.
Don't wait for "someday" when you have more time.
We don't want you to look back in a year or two and wish you'd taken action sooner.
Today, you are at a crossroads.
One path leads to energy, vitality, and eating delicious healthy foods that do not harm…
Foods that are powerful enough to heal with every bite.
The other can lead to pain, medical complications, insurance hassles, and
worsening disease. The farther you go down this path, the harder it is to make a change.
Tackling Type 2 is a chance to go in the right direction.
To make great decisions because you know better — and to give
yourself all the support you need to make it happen.
It's about helping you where it matters most: Your health.
You can do this!
Join us in Tackling Type 2 today.
Ready Now? Join Us!
Unlimited Access.
Enjoy it all as much as you want.
Enroll TODAY for $497
Buy Now

For your security, all orders are processed on a secured server.
Your purchase is protected by our 60-day money back guarantee.